Annie Jr. Performance Wows Audience!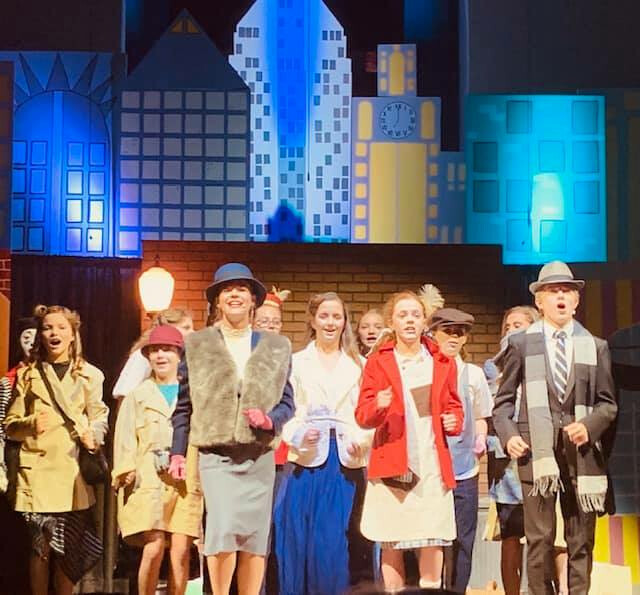 The PCA Middle School Drama Team took the stage this past weekend to perform Annie Jr. in front of a record breaking crowd. All three performances thrilled audiences with the transformation of the ECBC Worship Center into a towering New York City skyline during the Great Depression. Pam Hall, lower school music teacher did an amazing job with costumes, transforming middle school students into ragged orphans, a canine, street vendors, a couple of con-artists, fancy ladies, servants and President Roosevelt.
Comprised of sixty-four students ranging from stage hand to actors, the Middle School Drama Team had to be all in to make the play a success. Middle school drama teacher Jenni Brown said, "being in a play or musical requires a lot of hard work and teamwork but it is so worth it when the lights come up and you get to shine. No matter what your part may be, from tech, to stage crew, to publicity, to acting, it takes the whole team to make it happen and the whole team earns the applause."
Upper school choir director Kathy Thames added, "part of what makes a musical so successful is when the cast is willing to work hard. It is so rewarding for the students to see how that hard work pays off."
For many of the students it was nice to step out of their grade and form friendships with those either younger or older than themselves. When the cast was asked how they felt about their final curtain call, the overwhelming response was they would miss each other. Eighth grader Kwyncee Crager who played "the star to be" in the musical said, "my favorite part of performing was being backstage because it's like a family atmosphere back there. We get kinda annoyed with each other, but still love each other."
Playing the scheming Miss Hannigan, Eva Andrus also remarked, "I wish we could just do another play right away because I'll miss rehearsing after school and hanging out with my friends. Like when we all danced to the songs while backstage. I'll also miss the unpredictability of theater. I enjoyed improvising."
Congratulations to the PCA Middle School Drama Team on producing a very entertaining experience for audiences and more importantly, for forming new and memorable friendships.