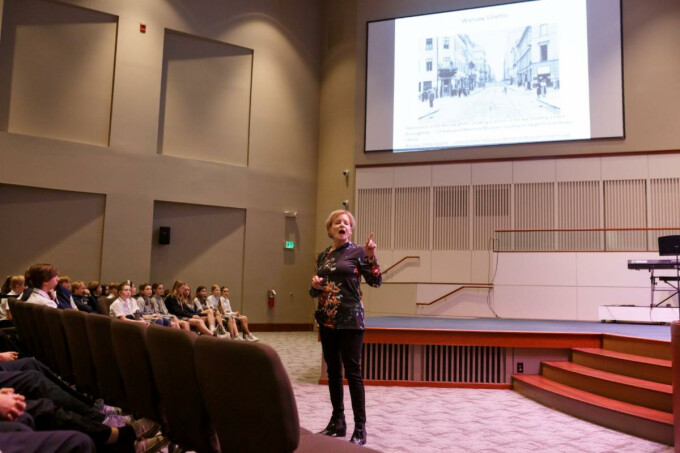 Humanity took a break, we don't know where it went, and we can't afford to let it happen again." These are the words Shirley Mills shared with PCA students and staff during our Holocaust Remembrance Chapel for the 6th-12th graders last Wednesday.
Mrs. Mills, the daughter of Holocaust Survivors Moshe and Rachel Silberstein and a member of the Jewish Federation of Charleston, was born in a refugee camp in Italy after the war. From there, she and her family moved to several places before settling in Israel and eventually moving to the United States.
Mrs. Mills has been sharing her parents' story for the past 40 years. Her father and uncle were the only survivors of their families and extended families in Poland. By way of several miracles, the brothers were able to stay together through their experience, and would eventually survive 9 concentration camps before being liberated by the Americans. Shirley's mother was 14 when her school was overrun by the Nazis, and she and her classmates were sent to live in tents in Moldavia (today known as Ukraine) to pick tobacco and cotton. Shirley's mother was liberated years later by the Russians. Shirley's parents then met in a refugee camp after the war.
Mrs. Mills hopes that by sharing the knowledge and the history of her family's story, one day horrific genocides will stop. "The only way to make sure genocides stop is by knowledge. Know about other genocides that are going on today. People are not good students, they repeat past mistakes over and over. Learn how to react to racism, bullyism, and hate and have the best and kindest life you can have."
Afterward, Bella De Los Reyes and Joshua Howard, students who participated in Mrs. Ugland's Holocaust History and Literature Course last year, shared their reflections regarding their time in the class.
"Hearing Mrs. Mills after taking the Holocaust class was hard," explained De Los Reyes, "but I'm glad I got the opportunity to meet Mrs. Mills. Most people do not get that opportunity and I find it important to know about the Holocaust and know what genocide looks like so we can stop it from happening again."
"The Holocaust Remembrance Chapel was a special time for PCA students, parents, and faculty to gather and commemorate the Victims and Survivors of this watershed event in history," said Faculty Member Kristi Ugland, who orchestrated the event. "Mrs. Shirley Mills shared her personal family story of hardship and pain but highlighted the times when God's providence spared her father, mother, and uncle on several occasions. It's important to continue to bring these types of vital experiences to the students so that it can help them with understanding history and growing in empathy for others."
PCA thanks Mrs. Mills and the Jewish Federation of Charleston for honoring our campus with the gift of Mills' parents' story and words of wisdom and hope for a brighter and kinder future.