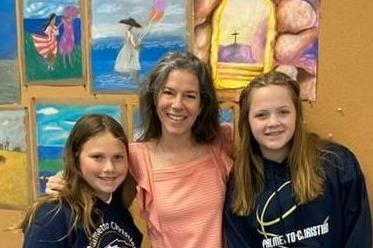 Each year the Southeastern Wildlife Exposition (SEWE) sponsors The Junior Duck Stamp Contest for students in grades K-12. According to their website, the program "integrates wildlife and nature education with a visual arts curriculum. Students learn the importance of wetlands and waterfowl and use their knowledge to create a drawing or painting of one of the 46 native species of ducks, geese and swans and compete for a big prize: a commemorative federal stamp."
This year we are proud to announce that the work of two PCA students was recognized and awarded in the SC Junior Duck Stamp Contest! Congratulations to 6th grader Sadie Mayer and 7th grader Laura Horne!
"Sadie earned an Honorable Mention for her oil pastel painting of an American Black Duck in the Grade 4-6 division," exclaimed Art Teacher, Nicole Seitz, "and Laura won best and overall in the Grade 7-9 division for her Conservation Message which states: As we see a bold reflection of our past and what we have done to conserve our wildlife, let it only push us to make sure the wetlands are a safe haven for waterfowl everywhere."
"What talented artists and writers we have at PCA!", says Seitz.
A big congratulations to Sadie and Laura, and a heartfelt thank you to Nicole Seitz for helping these talented young artists grow in their art and faith.