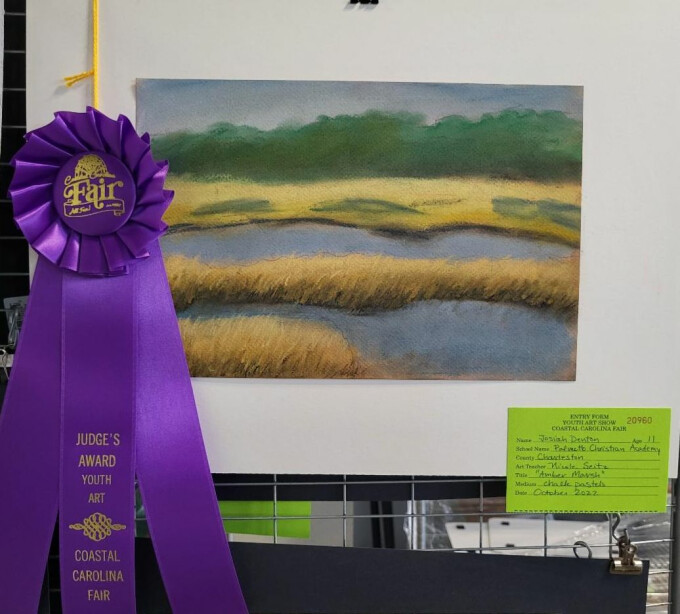 If you happen to go to the Coastal Carolina Fair this week, be sure to stop in the Exchange Building where you will see the work of many PCA artists. In the highly competitive Youth Fine Arts Show, PCA had seven winners!
Congratulations to Betty Henderson and Josiah Denton, who won Judge's Awards that come with rosettes and a $35 check! Congratulations also to Naomi King, Will Ferguson and Zella Horton for their 1st Place ribbons as well as Anna Sapp and Haiden Graybill for their 3rd Place ribbons! Other students chosen to represent our school in the Youth Fine Arts Show include: Ella Shorter, Grace Branch, Eden Tate, Brayden Albrecht, Julia Sanders, Margaret Askins, Jordy Romine, Levi Song, CateLynn Creech, Lauren Pabst, Greta Anderson, Cooper Anderson and Haley Tyler.
In the room next door, several students were entered into the Creative Arts Show. Congratulations to Zella Horton for her 1st Place ribbon and Best in Show rosette in that contest! More 1st Place ribbons went to: Solomon Jarvis, Levi Song, Landry Bowen, Kyler Stille and Haley Tyler. Second Place ribbons were awarded to: Wren Curry, Harper Hinson, Clara Lynn Hay, Grayson Wease, Langston Moore, Sadie Mayer, Lauren Pabst, Chris Garner and Davis Johnson. Congrats also to 3rd Place winner, Alistair Preston.
Mrs. Weeks and Mrs. Seitz are so pleased with the hard work and talent of our amazing PCA artists. Way to go, Eagles!