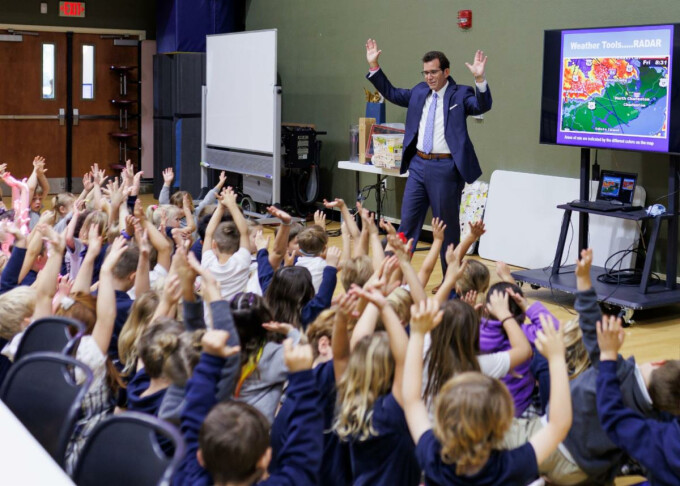 Last week PCA had the honor of hosting local celebrity meteorologist Rob Fowler of Storm Team 2 as he spoke to the kindergarten classes about the wonders of weather!
Armed with pictures, tools, and a powerpoint of facts, Fowler explained to the students what it takes to put together the local weather report each day.
First, he demonstrated how the green screen works and how the pictures the audience sees at home on tv are not actually what Fowler sees on set. In reality, he is talking in front of a green screen and looking at a tv monitor off to the side so he knows where to point to the graphics.
Then he introduced satellites and explained how they use them to take pictures of where the clouds are and when they move. He also explained radars and the Doppler Radar.
Next, Fowler spoke about weather balloons and radiosondes. He showed the students both and explained how the balloon is filled with either hydrogen or helium and a radiosonde, a small instrument suspended below the balloon which transmits measurements by radio. The balloon floats high into the sky to measure pressure, temperature, and relative humidity. Eventually the weather balloon will pop and the radiosonde will drop down with a parachute to land approximately 2-3 hours into it's journey. Students loved seeing the instruments up close. "The best part was when he showed us the weather balloon. It tells us what the temperature is," said Shep Desmond.
Students also learned about storm tracking instruments such as the Dropsonde, a hurricane measuring tool that meteorologists drop into a hurricane that allows them to measure the hurricane speeds! "He told us about the biggest hurricane," said Ella DeZordo "and he showed us a picture!" As well as other large storms. "I learned how they take pictures of tornadoes," said Madison Bentson "so they can tell people and warn them."
After all that learning, it was time for some hands on fun! Fowler challenged 10 students and their teachers to see who could blow the fastest wind speed into his anemometer. After a lot of trying, the winner was Mrs. Watson who blew wind speeds of up to approx 39 miles an hour!
Afterwards, Fowler opened the floor to questions from the students, and our curious kinders sure had a lot!
Before he left, as a thank you, the kindergarten classes presented Mr. Fowler with a PCA 30th anniversary shirt, which he proudly showed off during the 4:15 and 5:15 newscasts that evening.
"Rob Fowler did a great job of presenting about what a meteorologist does," said Mary Jane Watson. "He shared about the tools used and what it takes to create a forecast. The kindergarten loved learning new things about weather. The best was being on News 2 that night!"