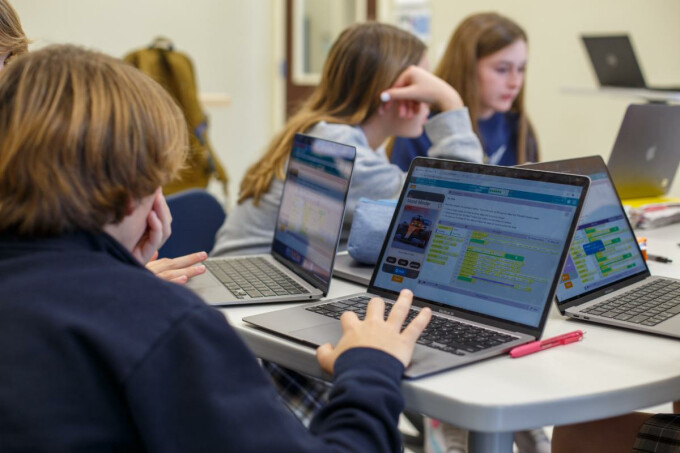 Today's world is one that is filled with the latest and greatest of apps, so it would only make sense that PCA's Computer Science class, led by teacher Robbie Kelly, learn a skill that is so popular in the workforce.
"The students get to see how easy it can be to come up with an idea and turn it into an app as well as see how much planning has to be done to consider how someone will use an app and what will make them enjoy using it," said Kelly. "It helps them develop deeper critical thinking skills by doing something completely new, but also by developing an intricate set of plans to create a noteworthy app that someone would want to use, then programming it to work as intended."
Students gathered in small groups, and then picked a theme for their app. The topics ranged from a "quiz" style app that at the end will determine where you should go on vacation, to one that focused on general trivia.
"This project is so much fun!" said Greta Anderson and Cokie Suddeth. "We get to use our imaginations and design a fun app!"
Sophomore Titus Pettersen agreed. "It's fun because along with creating the app we're learning new things like debugging and avoiding problems on the computer while creating an app!"
Once they finish, their classmates will test out each of the apps. What a fun way to end the semester!