Audiences Are Fully Engaged At The 2022 Palmetto Show!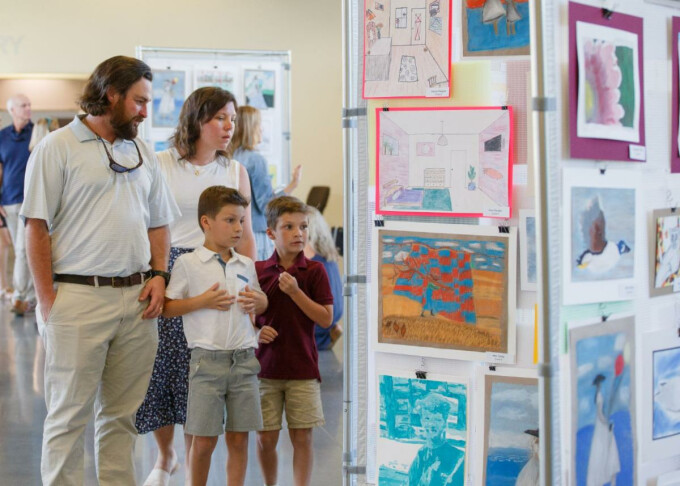 What an incredible evening! PCA families gathered together to enjoy this year's Palmetto Show and celebrate the Fine Arts program! The event was held in three parts, with the first beginning in the Welcome Center, where artwork from Nicole Seitz's middle school classes were displayed in a gallery type arrangement, with matted pieces on easels and hung for parents and students to stroll through on their way to the band and choir concerts.
"Our middle school students are a talented group!" exclaimed Seitz. "They work hard and persevere. It was a joy to share their works with families and friends. It's a blessing that PCA is a supportive environment for artists."
The ​first performance of the night was by the PCA Band, directed by Mike Doll. The Middle and High School bands came together to perform rousing pieces such as, "Bandroom Boogie", "Beethoven's Ninth," La Bamba," and the crowd favorite, "The Veggie Tales Theme Song," featuring Gracie Fischer on tuba.
"The band has continued to grow in quality this year," said Doll. "It was fun to once again be able to perform at the Palmetto Show and allow our parents to see what we've been learning this year."
Next the crowd was off to the 6th-12th grade choir performance, where the audience was wowed with ​traditional pieces, such as "Poor Wayfaring Stranger," performed by the 6th grade, Kuimba," performed by the 7th and 8th grade choirs, and "Adoramus Te" performed by the High School choir.
But no choir performance would be complete if there wasn't a choreographed musical number added to the mix. The sixth graders brought in a b​i​t of jazz with their, "Route 66" piece, while the 7th and 8th had the crowd humming to the well known classic, "The Lion Sleeps Tonight."
This year PCA's beloved Choir Director, Kathy Thames is retiring. To send her off in style, the 7th grade choir sang, "Memories" as a ​tribute to the memories Thames made while here at PCA​​.
Next up, the High School senior girls, AnnaJaye Walters, Bella Byham, and Charlee Olson sang, "Slipping Through My Fingers," which left the audience teary eyed but the mood was picked back up again when the high school boys crooned, "Can't Take My Eyes Off of You," accompanied by a brass band led by Mr. Doll. The high school girls entertained the audience with an American folk song, "Bring Me Little Water, Silvy." The night ended with the popular Spiritual, "Witness" and a standing ovation for Kathy Thames.
"This year's Palmetto Show was bittersweet for me, as it will be my last," said Thames. "I am so thankful to all of my students, parents and PCA staff, both past and present. Tonight felt like a wave of nineteen years of memories washing over me. I am so happy that our students sang their hearts out tonight and that our families enjoyed the concert. PCA will always hold a special place in my heart."
PCA is blessed to have a flourishing Fine Arts department and we look forward to seeing how it will grow in the future.