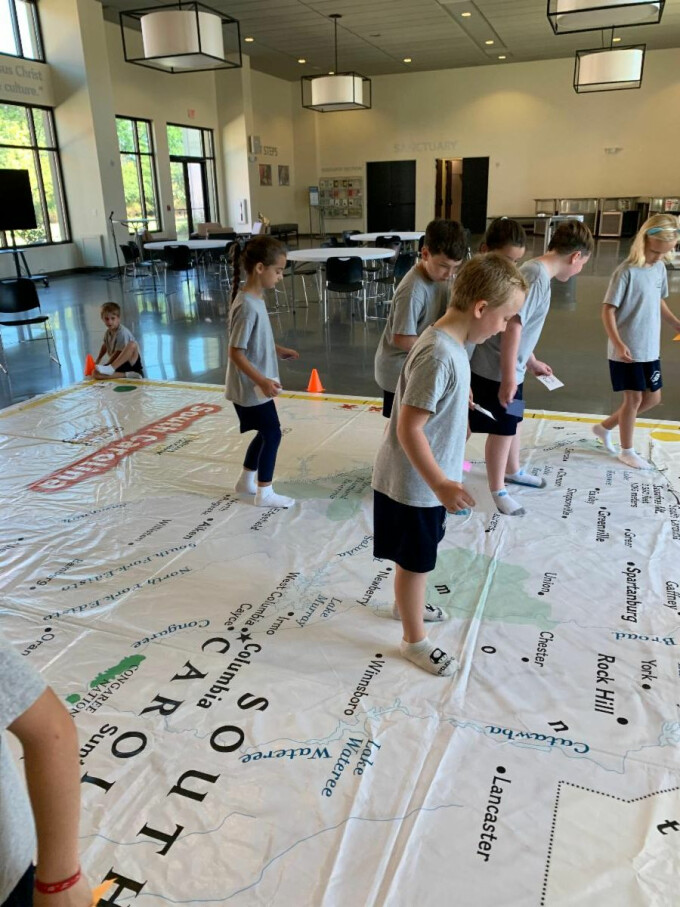 PCA's third grade classes were able to explore our state with a hands-on and ginormous map! Mrs. Adkins', Mrs. Andrews' and Ms. Jones' third grade classes were already enjoying learning about geography and how to read maps, so it was an incredible surprise when the South Carolina Geo Alliance offered to loan the students a classroom-size map of their state. The map was 24 by 17 feet and created by National Geographic.
"Through USC we were able to get the giant map and have our students actually walk across our state! This experience allowed students to find our cities and towns, locate our rivers and lakes, and explore our borders with NC and GA. The students had to find different locations with partners and then we played team games," said Mrs. Adkins.
Having such a large resource encouraged students to participate in the learning process, but the students were not the only people who were excited about a new way of learning. Teachers, staff and anyone who walked by the entrance to the Welcome Center stopped in to see the fun. When asked what they liked most about this activity, Ryan Delany said, "I enjoyed learning about new cities and where they are located." While Sophia Doster enjoyed "...playing the boys vs. girls game." Overall, this activity was one that the students and teachers are sure to remember.