Junior Class Resumes On Campus College Tours & Literature Trip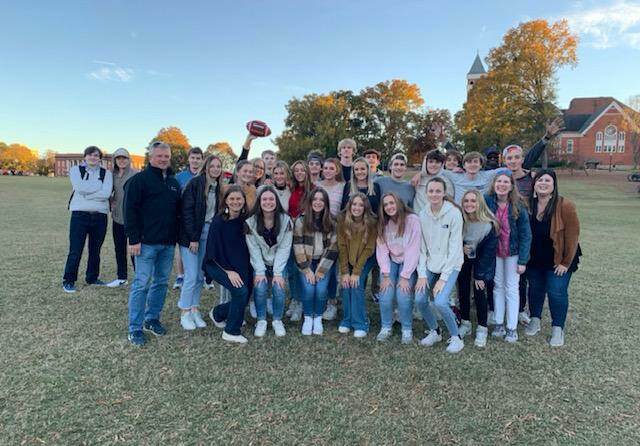 This year PCA was able to resume our College Tours and British Literature trip for juniors. Under the guidance of Ms. Cooper, Mrs. Ugland, Mrs. Pascutti, Mr. Wulff, and Coach Hoover the junior class loaded up the new buses and headed on a two-day trip that would cover the campuses of Clemson, Anderson, and Wofford, with a brief pause at Bob Jones University to see a performance of Shakespeare's, "A Midsummer Night's Dream." Students also attended an RUF (Reformed University Fellowship) worship service at Anderson University and enjoyed dinner with 20 PCA alumni who attend college in the upstate.
According to Academic Counselor Sally Pascutti, "Our goal is to introduce students to three different types of colleges--a large state university, a liberal arts college, and a Christian college. When they get their feet on the ground at these campuses, it gives students experiences that help them determine the best college fit. Taking them to a campus ministry event and a fine arts production helps students envision themselves immersed in a specific campus culture--more useful information to help them make college decisions."
When asked what she enjoyed most about the trip, Cooper Anderson said, "I really enjoyed seeing inside the dorms and school buildings and being able to really see what it would be like to go to school there."
And she was not the only one, Ben Fletcher agreed. "I enjoyed learning about the experience of college life with the atmosphere of PCA. It was a jolly time."