PCA Alumna Returns As Student Teacher!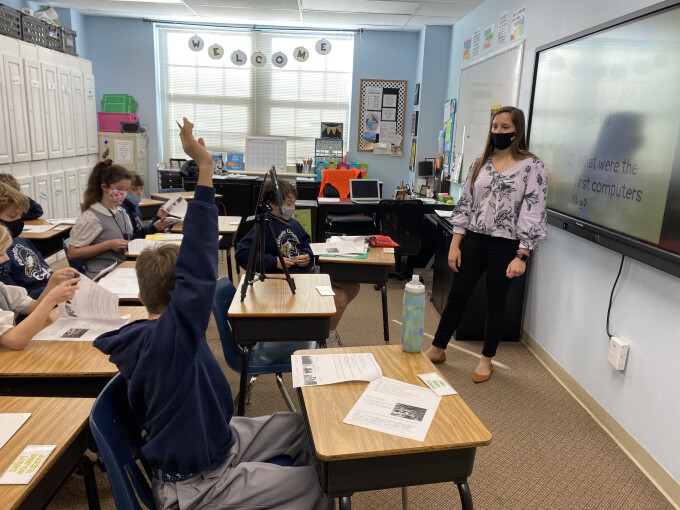 As Mr. Zubia always says, "Once an Eagle, always an Eagle," so when the Eagle alumni come back to work at PCA, it makes their employment that much sweeter.
PCA gained alumna, Caroline Atkinson, earlier this year as a new kindergarten teacher and this semester we welcome back Mackenzie Patrick, a 2017 graduate, to complete her student teaching with Mrs. Shogren's fifth-grade class.
In a question and answer session, Mackenzie shared her excitement about this new adventure at her alma mater.
How long were you a student at PCA? What year did you graduate? I was a student at PCA from 2-year-old preschool-graduation! I graduated from PCA in May of 2017.
What is your current major? My major at Liberty University is Elementary Education with a middle school social studies cognate.
What made you want to become a teacher? After my freshman year at Liberty University I really started to ask myself what brought me joy and what could I see myself doing for a career after college. I then realized all of the years of nannying, tutoring, being a camp counselor, and actually being one of the kids who enjoyed going to school made me realize teaching might be something I should look into. After my first week of shadowing a teacher, I knew right away this was something I would enjoy and now after more experience, I can truly say it is God's calling for my life.
Why did you want to come back to PCA to student teach? PCA has always felt like a second home for me…I think if someone sat down and did the math I have probably spent just as much time at PCA as I have at home over the years between school, sports and attending ECBC. When Liberty told us that we could student teach anywhere outside of Lynchburg, I knew I wanted to come back to this special place where I would have a supportive staff that wants the best for my teacher training.
What has been your favorite part of student teaching thus far? My favorite part of student teaching has been the overwhelming support I have felt from the students, teachers, staff and parents of PCA. I also am so thankful I get to see my two brothers who are students at PCA after being away from them for a few years at college.
How does student teaching here at PCA feel for you? Student teaching at PCA feels amazing now that I can give back to the school that gave me such treasured memories. I have felt so welcomed here and I am thankful for the amount of support I have from everyone at PCA.
A fun fact about yourself? A fun fact about me is that I just recently got engaged. The proposal happened in our 3rd grade classroom at PCA (my fiance' and I were classmates then) and now this is one of the classrooms I'm student teaching in.
We look forward to having Mackenzie here on campus with us until the middle of May!