3rd Graders Enjoy Turtle Talk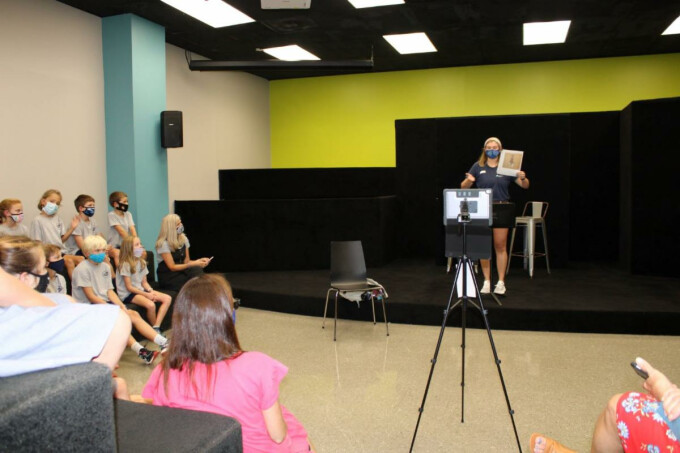 Last Thursday, PCA had the pleasure of welcoming back past student Hannah Neibuhr who came to talk to the third grade classes about her work with the sea turtles at the South Carolina Aquarium.

Neibuhr wasn't just any guest speaker, she actually attended PCA during her kindergarten through 6th grade years. Even more fun, she had Mrs. Andrews as a third grade teacher and Mrs. Adkins for fourth.
After graduating high school, Neibuhr attended Clemson University from 2015-2019 where she graduated with a degree in biological science. Right out of college she got an internship at Zoo Atlanta, where she worked for three months with the Red Pandas before applying and receiving an internship with the South Carolina Aquarium. Thankful to be able to return home, Neibuhr loves working as an assistant in the sea turtle department.
Neibuhr visited with our third grade classes to share her experience working with sea turtles. She was met with enthusiastic questions from the students. "Do you work in the turtle hospital?" (Yes.), "Have you worked with sick turtles?" (Yes. This summer there were 29 turtles in the sick bay), and "What was your favorite animal you worked with at the zoo?" (The Red Panda).
"I was so excited to hear how interested they were," Neibuhr said. "A few of them even stumped me! They are all so smart, I was blown away!"
After several questions and answers, Neibuhr shared pictures of the turtles she helped care for, and provided fun facts about these amazing creatures. Did you know that turtles can feel through their shell (think how a back scratch feels)? Or that the temperature of turtle egg determines the gender (warmer=girls, cooler= boys)?
When asked what her favorite part of the talk was, third grader Mia Rodgers said, "When Ms. Neibuhr told us about when she got to release turtles back into the ocean. It sounded so beautiful, hearing about how she got to care for a turtle and then see it being brought back to the ocean."
PCA loves welcoming guest speakers and even more so when they happen to be former students, because as we say, "Once an Eagle, Always an Eagle."