3rd Graders Visit Historic Boone Hall Plantation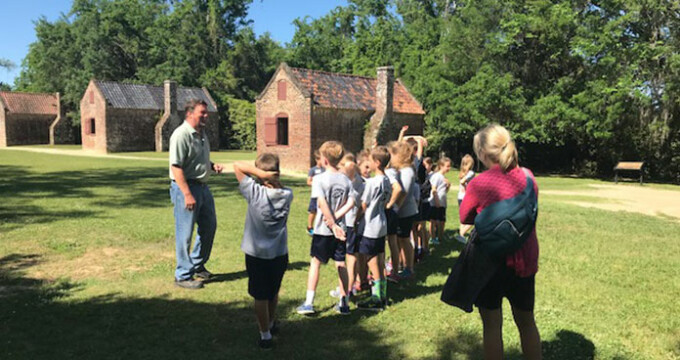 Last Monday, the third grade classes enjoyed a lovely May morning at the Boone Hall Plantation. The students heard the history of the plantation dating back to its origins in 1681 when Major John Boone and his wife received the land as a wedding gift. They also learned that over the years Boone Hall Plantation has produced a number of cash crops including lumber, brick, indigo, cotton and pecans and that it houses the oldest building in Mount Pleasant- a smokehouse built with bricks made on the Plantation in 1750. Another interesting fact about the Plantation is that its stable was once home to Princequillo, a Thoroughbred whose progeny includes three Triple Crown winners - Secretariat, Seattle Slew and America Pharoah.
The students also heard a powerful and moving lesson on Gullah history by Ms. Jackie Mikel, the Gullah Gal. Ms. Mikel taught the group that the Gullah culture has its roots in Western Africa because the people there could tolerate the heat of the South and had developed an immunity to malaria which was a problem during the warm months on the plantations. Also, we learned that the slaves dropped parts of their words and spoke quickly so the slave owners couldn't understand them. By doing so, this led to the development of the Gullah/Geechee language.