An Impactful Picnic & Prayer Walk: Thank You PCA Families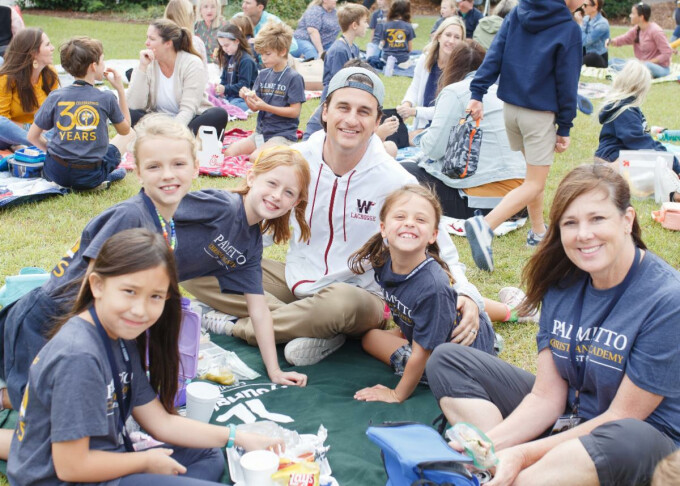 Thank you to the many lower school families who joined us last week for our Picnic & Prayer Walk, a special 30th Anniversary event. Each of the 23 classes gathered with family members in 23 different areas around the campus, covering our school and our students in the power of prayer.
Heather Olson's 3rd grade class crowded in the maintenance closet and prayed for each of our facility staff members by name. Jessica Hanzsche's 2nd grade class met several of our high school teachers and visited classrooms in the Student Life Center as they prayed for our high school students. Sarah Gift's 1st grade class prayed at the door of each classroom in the kindergarten - 2nd grade hallway.
It was a moving and touching display of faith and love for one another, as shared by several of our lower school teachers.
Charity Light, Third Grade Teacher: "My class walked the preschool hallway, stopping to pray for the teachers they had themselves as preschoolers, or teachers their siblings have now, or teachers who are their own moms! They prayed for the little preschoolers to come to know Jesus as they grow up. It was so impactful."
Braden Cruz, Kindergarten Teacher: "Today was my favorite day! Busy busy, but oh so wonderful!!! My favorite part was first thing this morning we talked about what the prayer walk was for and I told them how our location to pray was in the cafeteria so we needed to put our hearts together and write down what all we could pray for. I wrote on a sticky note for each child a specific prayer request that we came up with together and during our prayer time we spread out in the cafeteria and they took their prayers and went with their parents to pray. I love that I didn't just tell them what to pray for, they truly prayed from their hearts!"
Caroline Atkinson, 2nd Grade Teacher: "As we were praying over the middle school hallway, the middle schoolers were changing classes. My babes were so excited to see the students they were praying over. It was very sweet!"
DeeAnn Medlin, 2nd Grade Teacher: "My class broke into groups and prayed over the all the different areas of the playground. My group had some sweet, thoughtful prayers for the students who play on it, the maintenance people who fix it, that no one gets hurt and that sweet friendships are made, that no one is excluded, and that hearts are touched to reach out to the ones who need a friend."
We praise God that we can join together to lift up our school community, to thank Him for blessing our ministry for the first 30 years, and to ask Him for continued blessings on future generations as we are "Celebrating Our Past. Securing Our Future."