Astronomy Night Shines for Middle School Students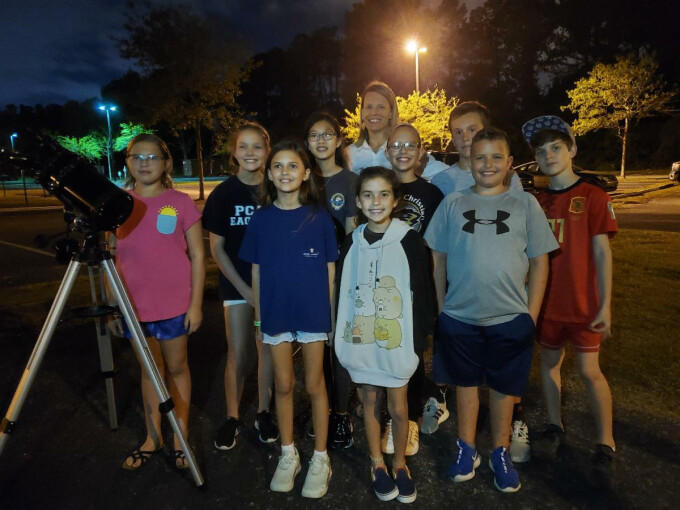 It was a starry, starry night for several of our 6th and 7th grade students as they joined their middle school science teacher, Kim Moser, to gaze at the sky. Mrs. Moser says this was the first astronomy night that she has hosted, and it was a perfect evening for discovery!
Three telescopes provided the students with plenty of opportunities to make observations. The students were able to clearly observe Saturn and its rings (very cool!!), Jupiter and its 4 Galilean moons (Io, Europa, Ganymede and Callisto), as well as a close up of the moon and its craters. "The kids were amazed at what they saw!" said Mrs. Moser. "Mr. Overcash (PCA parent) was an amazing help as he taught some astronomy courses at Furman University. I couldn't have done it without him!"
Here's what a few of the students had to say about their experience:
"We got to See Saturn and its rings. It was amazing. We got to see the craters on the moon. It was wonderful. God did amazing things and it was crazy to see." Ava Benton - 6th grade
"Astronomy night was amazing. We were able to see Saturn and its rings, Jupiter, and the moon and its craters. Once we made our observations the clouds moved in and we could play and have fellowship. I highly recommend going." Alyssa Carper - 6th grade
"The astronomy night was breathtaking. I could see Saturn and its rings and the moon's craters in detail. Mr. Overcash explained lots of things about the stars. I had lots of fun and the experience was exciting." Angelina Xiong - 7th grade
"If you take a minute to admire the stars, you will see a reflection of God's mighty power and how amazing He is." Liza Klassen - 6th grade