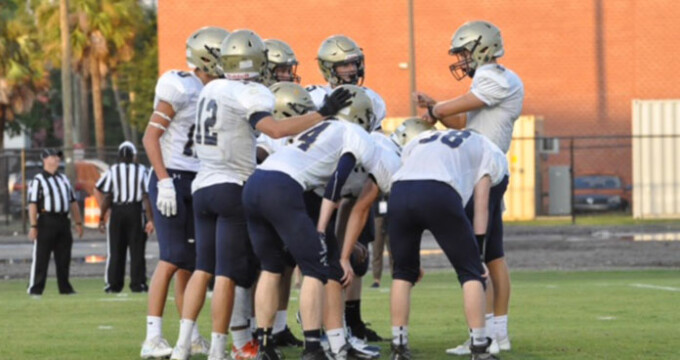 The Varsity Football team lost to Dorchester Academy by a score of 54 - 24 on Friday. The Eagles played close in the first half before eventually dealing with fatigue. Senior quarterback Chad Shimakonis had over 200 yards passing in the game including a 49-yard touchdown pass to Grayson Silvester and a 76-yard touchdown pass to Stephen Hickman. Jackson Shogren and Gage Kennington each caught a 2 point conversion pass from Shimakonis.
Throughout the season the boys played every snap with tremendous heart and dedication. Athletic Director Dale Hoover says,"several opponents commented about how our boys never quit and left everything they had on the field. The loss Friday may have marked the last varsity football game for 5 seniors but the examples of hard work and sacrifice that they set will impact future PCA teams for years to come."
Head Coach Chris Shimakonis calls them gladiators. "Football is the life blood of the high school experience in every town USA. To watch this team continue to battle, play after play, game after game, is a true testament to their belief in Team and the responsibility of carrying the torch for PCA... no matter how big the challenge or how small the odds. Not sure what I've done to be so blessed as to witness it up close."
We want to thank Coach Shimakonis, Coach McDonald, Coach Manning, Coach Rourk and Coach Shogren for being "All In" with this team.. dedicating many hours to coach and mentor these young men. A huge thank you also to the cheerleaders, parents and Eagles fans for supporting our Varsity Football team throughout the season!