Celebrating Hispanic Heritage Month At PCA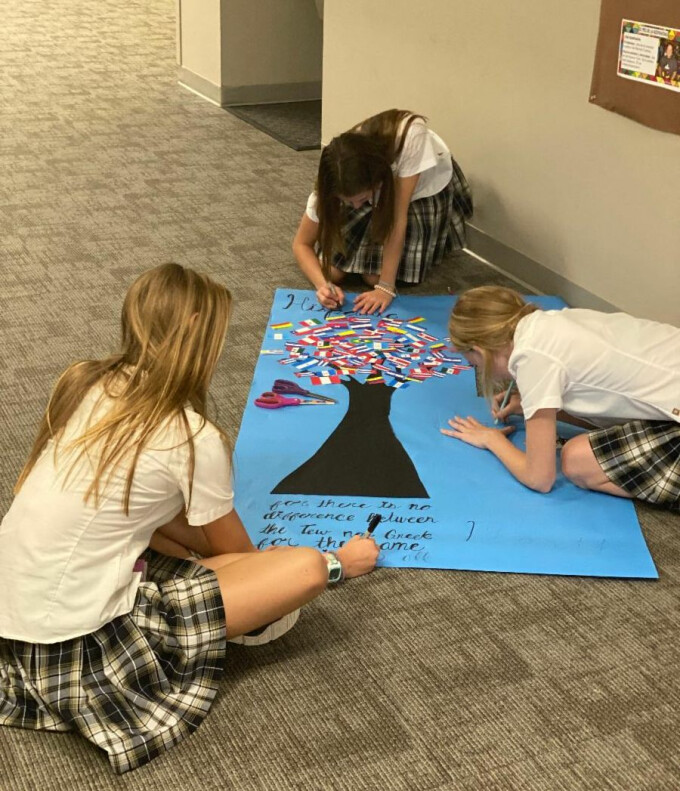 Throughout the hallways of PCA, you'll find true works of art currently displayed. The Spanish classes and a crew of ninth and tenth graders, under the guidance of Sandra Pabst, brought beauty to the walls and doors by sketching, outlining, and cutting out life size replicas of authentic items from various countries in celebration of Hispanic Heritage month which runs from September 15 to October 15.
"Hispanic Heritage Month celebrates the history, culture and contributions of American citizens whose ancestors came from Spain, Central America, the Caribbean and South America," explained Pabst. "We experienced Hispanic heritage through the efforts of PCA students working in the community to display the culture."
The Spanish department, which is made up of Tonya Whitehead, Laura Tyler, and Kevin Riley, are incorporating Hispanic Heritage lessons, videos and activities into their normal Spanish class instructional time throughout the month.
Activities included presentation projects on individual Spanish-speaking countries and 3rd-7th grade students having the opportunity to play Hispanic Heritage bingo which helped to teach them about influential people of Hispanic origin, such as directors, astronauts, and doctors.
Señora Whitehead also was able to introduce different physical features, songs and food of the Hispanic culture to her class, such as pickled cactus and cacao. But she says it's so much more than just a celebration of culture, quoting an article she recently read, "God promised Abraham that through him He would bless "all the families of the earth" (Genesis 12:3). The apostle Paul wrote to the Ephesian Church that this promise is being fulfilled through the church as God unites all things in Christ (1:10). It is amazing that one of the many things the Lord is uniting through Christ is a people from every tribe and nation. He is gathering under Christ a multi-ethnic, multi-cultural church. So, when we celebrate together this month, we are letting the world around us know that God is powerful enough to unite two different cultures under the gospel of reconciliation."
When asked what stood out most about celebrating Hispanic heritage, 10th grader Grace Loehr said, "We were able to not only celebrate Hispanic Heritage but also make the students of PCA aware of many Hispanic countries and people that they didn't know about before."
This Wednesday, October 5, lower school chapel will feature an Hispanic Heritage Month focus while the Upper School chapel will feature a special speaker (el muy querido Señor Zubia) and the cafeteria will offer a lunch that will feature a Hispanic themed menu!