Drayton Hall Brings Revolutionary War to Life!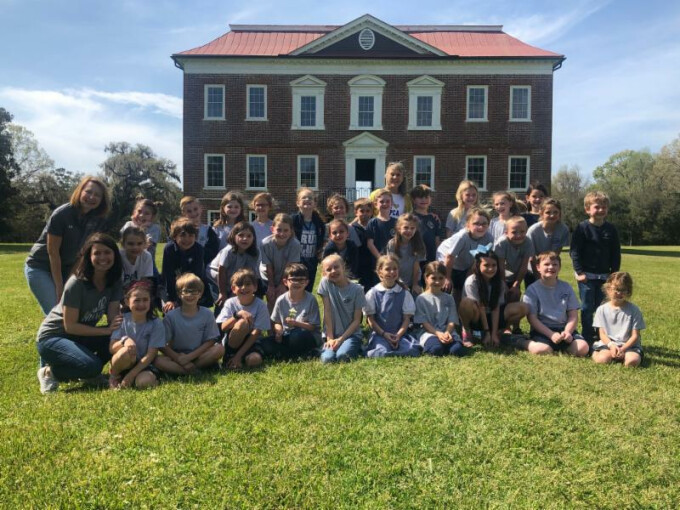 Over the past several weeks, PCA 2nd graders have been diving deep into the history of the Revolutionary War. Their minds have been full of wonder about the 1780's events involving the Loyalists, Patriots, battles, and lifestyles. So, no better way to put all the learning in motion than with a visit to local Lowcountry plantation, Drayton Hall.
Drayton Hall was built in 1738, and it remains the oldest unrestored plantation house still open to the public today. Located along the Ashley River, the home was built for John Drayton, Jr. by his father. The Draytons owned a network of fifty or more working plantations, and Drayton Hall is believed to have served as a home seat for the family. A Continental Army General occupied Drayton Hall as his headquarters for a brief period in 1782, and the entire plantation sustained significant damage from the Revolutionary War.

During the visit, our 2nd graders were given several informative lessons all about Revolutionary War excitement on Drayton Hall plantation. They saw up close the uniforms the soldiers wore. In classrooms, replicas of each uniform were displayed, and each part of the uniform was described. A fun fact we learned was the British soldiers had a leather strap around their neck called a stock, and this was used to remind them to keep their heads up while marching. Next, each child saw up close the supplies soldiers carried while fighting, including weapons, eating utensils, money, and small games. Last, students learned how to march and take orders as if they were off to battle. Given a replica of a musket, they learned how to hold, aim, and shoot at the oncoming enemy. This was the highlight of the trip for sure!