Fighting Eagles Shut Out Wardlaw For Homecoming Victory!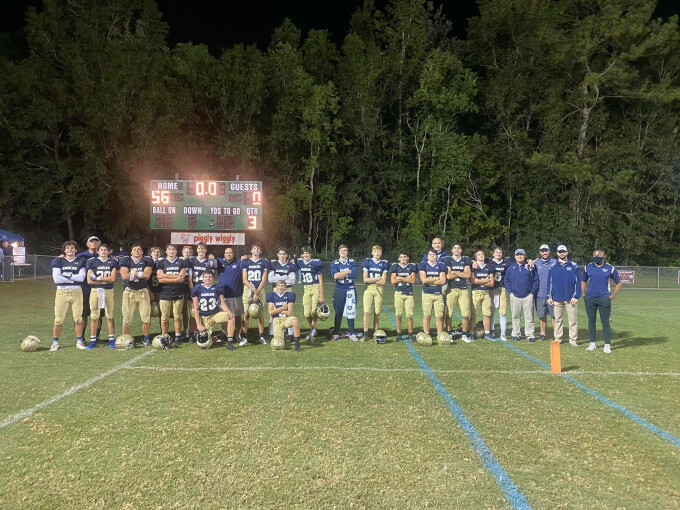 PCA's Varsity Eagles shut out Wardlaw Academy 56-0 on a beautiful Homecoming night. The mighty Eagles rolled up 385 yards of total offense while our dominant defense limited Wardlaw to only 81 yards offensively.

The Fighting Eagles offense was fueled by a host of Eagles.. Connor Rourk was 13 of 16 passing for 212 yards with 4 TDs and he rushed 9 times for 89 yards with 2 TDs. Carson Rourk caught 6 passes for 104 yards with 2 TDs, Kendall Chakeris added 42 yards rushing with 1 TD and caught 3 passes for 46 yards, Ethan Lowther caught 2 passes for 36 yards with 1 TD and added 3 tackles on defense. Wyatt Shogren caught 2 passes for 26 yards with 1 TD while Colson Gunn rushes 2 times for 42 yards.

Defensively, the Eagles once again were led by a host of players. Joe Pascutti had 11 tackles, 1 sack, 1 tackle for loss, 2 fumble recoveries and a safety. Carson Rourk had 10 tackles, 2 tackles for loss, 1 pass breakup and caused a fumble. Wyatt Shogren added 8 tackles, 1 tackle for loss and a safety.. Kendall Chakeris had 8 tackles, 2 tackles for loss, 1 sack and 1 fumble recovery.. and Colson Gunn had 8 tackles and caused a fumble.

"What a great way to celebrate homecoming with a big win over a quality opponent and get everyone on the team some valuable playing time in front of our awesome home crowd. Our guys practice hard and we're focused all week and it showed in our win. We were sharp in all phases of the game."
PCA will travel to Batesburg next Friday night to take on W.W. King Academy with a 7:30 pm kick-off.