Join Us For A Fantastic Production Of Aladdin!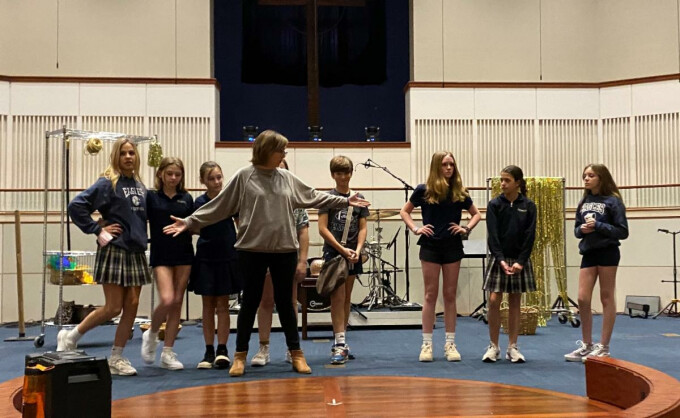 Get ready to enter a whole new world when the PCA Middle School drama department takes to the stage for this year's production of Aladdin, Jr.
Every other year the dynamic duo that is drama teacher Jenni Brown and choir director Kathy Thames take PCA's middle schoolers and turn them into a crew worthy of the broadway stage.
This year's production is made up of a total of 73 sixth-through-eighth grade students that together perform the tasks of: stage crew, "commercials", members of the cast, and dancers. With no time to waste, the team has hit the ground running. When auditions finished in December, students began rehearsals as soon as they came back from break, practicing during drama and choir classes as well as after school everyday to get each step and note just right. Members of the cast and their directors are all very excited about how the play is coming together!
"The most exciting part about being the Genie," said Laura Horne, "is being able to learn from Mrs. Brown and showing my personality through acting this role!
"I am always so excited to see how the talents of the students shine," said Thames. "A musical combines acting, singing and choreography, so students have to work so hard and remember a lot! Mrs. Brown and I are always so proud of how our students grow as artists during this process!"
"I am most excited for opening night," said Brown, "when the kids see it all come together and see the fruits of their labor.
Don't worry, you won't need three wishes from the genie to be able to see this show. Performances will take place on February 10 at 6 pm, February 11 at 6 pm, with a matinee on Saturday, February 12 at 2 pm.
Make sure to be "one jump ahead" and get your tickets now by clicking the link below. Scroll down past the athletic games to find the Aladdin ticket link. Tickets are $5 per person.
Bring the whole family to enjoy this "unbelievable sight" that will send your emotions "soaring, tumbling and freewheeling" as you sit back and watch the PCA Middle School Drama Team's production of Aladdin!