Our Fighting Eagles Win First Round of State Playoffs!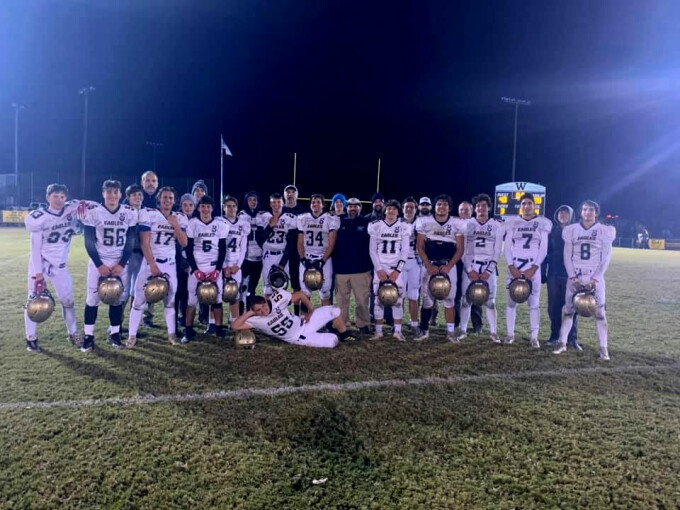 Our PCA Varsity football team faced a tough battle in their first round playoff game as they faced the higher seeded Wardlaw Patriots, but the Fighting Eagles played with excellence and came away with the upset by a score of 40 to 28.
At the opening of the game, our Eagles had to fight back from adversity when Wardlaw returned the opening kickoff 65 yards for a touchdown. But the Eagles quickly settled down, took control of the game and never trailed again.
Our Eagles had a bunch of guys play extremely well. Connor Rourk scored 3 TD's while rushing for 258 yards and threw a 30 yard TD pass. Kendall Chakeris had a big game with 68 yards rushing with 2 TD's, and on defense recorded 10 tackles with 4 tackles for loss, 2 sacks and 1 forced fumble. Wyatt Shogren caught a 30 yard TD pass and had 9 tackles, 3 tackles for loss, 1 sack, 2 forced fumbles with 1 fumble recovery. Carson Rourk had a big night at linebacker with 17 tackles and 2 tackles for loss, as did fellow linebacker Colson Gunn with 13 tackles and 1 tackle for loss and Grayson Campbell with 9 tackles. From their defensive tackle positions, Mack Poston and Ocean Dybowski played tough. Mack finished with 4 tackles, 1 tackle for loss and 1 sack while Ocean had 2 tackles, 1 tackle for loss, 1 sack and a forced fumble!
Head Coach Kevin Rourk says it was an impressive team effort, "What a monumental win for our guys! We went to the home field of a higher seed.. and to beat them the way we did after they returned the opening kickoff for a TD was amazing to watch. It is a testament to the team's mental toughness and grit. We always talk about how we cannot let one bad play decide the game for us - that you have to let that play go and focus on what you can control - and that's exactly what these guys did!"
Our Fighting Eagles move to the state semi-finals with this win. PCA will travel to Andrew Jackson Academy at 7054 Broxton Bridge Rd in Ehrhardt this Friday night, November 15. Kickoff is 7:30 pm. We need our fans to show up and make some noise!