PCA Students Attend Leadership and Ethics Conference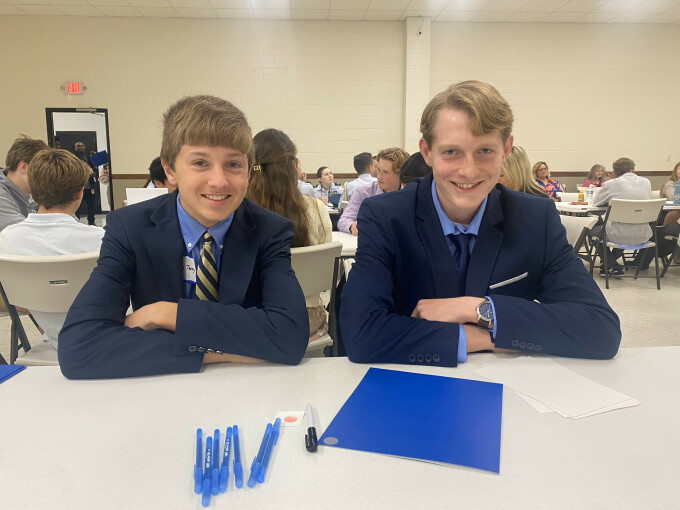 Juniors Will Perkins and Joseph Terry were selected to represent PCA at the Service Academy Leadership & Ethics Conference for Charleston County schools last Thursday. Graduates from the nation's military service academies partnered for this event with retired state senator Mike Rose to inspire leadership and ethical behavior among high school students. Speakers included LTC (Ret.) Kent Selby - Director Of Operations at KBR Careers, Joshua Dix - Government Affairs Director for Charleston Association of Realtors, Captain Scott McGinnis - former Command Officer of Naval Nuclear Power Training Command, and Ryan Cass - Senior Management at The Boeing Company. Each speaker closed by presenting the students with a real world dilemma from their field that required a decision. The students worked in small groups to develop a plan and present their solutions. The day ended with group challenges aimed at helping students identify different leadership styles and helping the students develop their list of personal values & goals.
Will Perkins says it was a very meaningful experience, "The event was a fantastic opportunity that not only allowed me personally to meet several either impressive or important persons, but also, I believe, inspired many of those present to pause and look at things that they may not normally consider."
Fellow attendee Joseph Terry agrees, "I enjoyed the great team building exercises and leadership talks that were given. Having lunch and meeting student leaders from around the Charleston area was really good too".