Promoting Literacy With Read Across America Week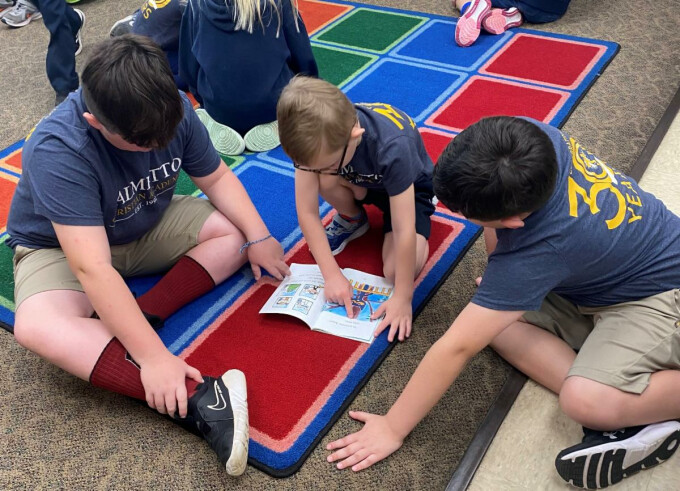 Lower School students recently participated in the nationwide "Read Across America Week". This annual event is celebrated the week surrounding March 2nd, the birthday of Dr. Seuss, and was created by the National Education Association in hopes of encouraging elementary students and teenagers to read!
This year Lower School participated in its very own spirit week, with each day focusing on the joy of reading while dressing in costume. Students came to school in Crazy Socks, 30th Anniversary shirts, matching outfits on Twin Day, crazy and fun hats for Hat Day, and they rounded off the week by dressing up as their favorite book character.
The activities in the classrooms were just as colorful and exciting as the outfitsl Several Kindergarten and 1st grade classes had older students come read with them, while Mrs. Shockley's kindergarten class read the Cat in the Hat and did a story map/retell before creating their own Dr. Seuss hats!
Mrs. Snook had guest readers come to her classroom every day including ECBC Pastor Buster Brown, Seacoast Pastor Greg Surratt, and PCA Art Teacher and author Nicole Seitz.
At the end of the week, the kindergarten classes hosted a Literacy on the Lawn, an event that was special for all involved. "Each child brought in a book or two that they could read to their parents," explained kindergarten teacher Alex Alford. "What the students didn't know was that their parents were bringing a surprise book wrapped for the students that they could read together over lunch!"
The goal of the week was to celebrate and encourage a life of literacy. Through the mentorship of our older students, the commitment of parents to emphasize reading, and the thoughtful, creative lessons of our faculty, PCA's desire to foster a love of learning was evident each day of the week.