Second Graders Take a Deeper Look at Colonial America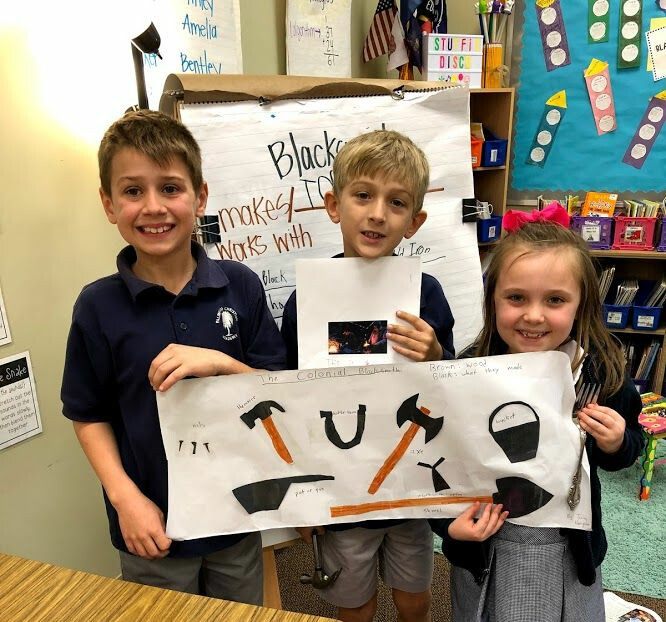 The second grade classes have been studying the original thirteen colonies in their classrooms; furthermore, because the children enjoyed what they were discovering so much, they just finished a project on Colonial America where they were each assigned the job a colonist would have. Mrs. Hanzsche told me her "students were interested in what life was like back then, what it looked like, what people did, how they did it, etc. They were curious if we still had or used certain materials and objects that they did back then." Mrs. Hanzche said that having the students research a particular Colonial job, students were "able to bring their learning to life" and that by "having [students] research, present, and physically touch, feel, and experience the basis of the lesson, teachers are able to address each type of learning style."
I spoke with a few of Mrs. Hanzche's students: Emerson, Luke, and Amelia, all of whom loved the project. Emerson researched the life of a joiner, who "makes wooden window frames, and who built other wooden things and toys." Emerson also enjoyed working with her mom on the book she made. Luke did his research on the life of a Colonial cobbler. He told me that cobblers could only fix shoes but not make them because someone else made the shoes. Amelia studied what it was like to be an apothecary who made medicine mixtures out of plants. She liked sharing what she learned with the class. Mrs. Hanzche said that seeing the teamwork her students exhibited, the pride they took in their work and how they shined in their presentations to the class made the project completely worthwhile.