Third Graders Enjoy and Afternoon with a Pirate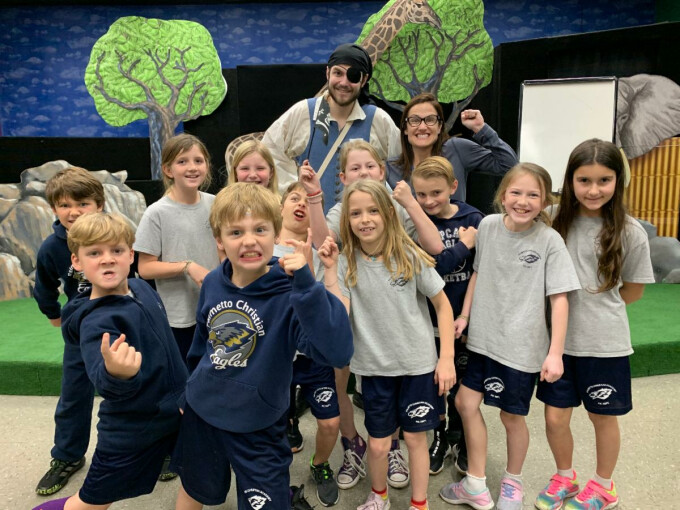 While waiting with the third graders for the special guest (a pirate!) to arrive, I knew I was in for a treat because the students' excitement was palpable. I asked the children if they had been learning about pirates in their classrooms. Buggy informed me that they have been learning about Charleston's harbor and South Carolina's coastline during the Golden Age of Piracy. Millie added that they had learned about Blackbeard and Steve Bonnet who was known as a fancy pirate.
As soon as the pirate arrived, he asked us to travel back in time with him, leaving 2020 and heading back to when pirates reigned the seas. The guest asked what students already knew about pirates. "Blackbeard would light his beard on fire to scare people!" and "pirates would steal stuff!" were gleefully shouted out to him. The inquisitive students from the classes of Ms. Jones, Mrs. Andrews, and Mrs, Adkins were then invited to interrogate him and asked him such questions as, "What are you here to plunder?", "Why did you become a pirate?" and "What brings you to Charleston?"
In this day and age the pirate's actual name is Rigel Kocur. He is the education coordinator for the Old Exchange in downtown Charleston. The third-grade teachers hope to re-connect with the Old Exchange in the future and invite other special guests to bring a glimpse of the past to the now. Thanks so much to Mr. Kocur and the Old Exchange for this fascinating educational tour through history!