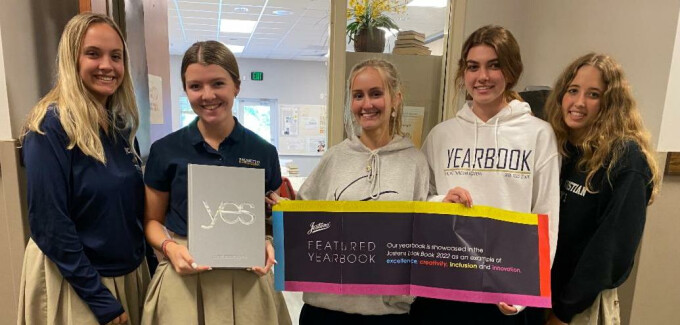 Each year the PCA yearbook team strives to produce a yearbook that aesthetically reflects the story of PCA's staff and students. Not only did the 2020-2021 yearbook team of Mary Grace Booker, Kaila Guyan, Jordan Benfield, Emily Shaw, and Haley Tyler achieve this goal, they also got recognized in the Look Book, Josten's annual "best of the best" publication, for their cover!
"I am so proud of this group of hard-working and driven young ladies," said Yearbook Advisor Melanie Rodgers. "In the midst of COVID they not only produced an amazing yearbook, but their work was recognized in a book that showcases the best of the best yearbooks submitted to Josten's. They should be very proud of all they accomplished last year."
A team of experts chose 458 yearbooks from nearly 1,000 submitted to be featured in the Look Book, which will go out to 11,000 high schools throughout the United States, Canada, and Internationally.
Congratulations to last year's team!!!