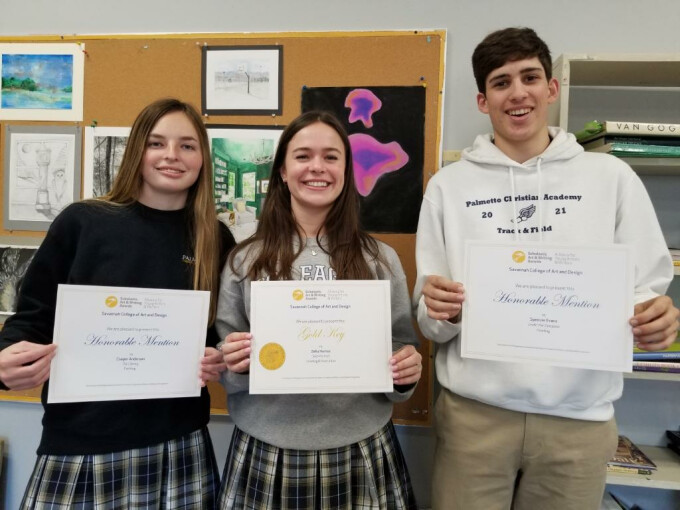 This year is the first year that PCA has entered the highly competitive Scholastic Art & Writing Contest, and their talents were well received.
The Scholastic Art & Writing Awards are "presented by the Alliance for Young Artists & Writers…a nonprofit organization whose mission is to identify students with exceptional artistic and literary talent and present their remarkable work to the world. The Awards give students opportunities for recognition, exhibition, publication, and scholarships. In 2021, students across America entered nearly 230,000 original works in 28 different categories of art and writing."
Under the guidance of PCA's own renowned art teacher, Nicole Seitz, three of PCA's art students submitted work into the competition, where each entry is judged and selected for awards "without knowledge of the student's gender, age, ethnicity, or hometown," and are judged on works that exemplify the Awards' core values: originality (work that breaks from convention, blurs the boundaries between genres, and challenges notions of how a particular concept or emotion can be expressed), technical skill, (work that uses technique to advance an original perspective or a personal vision or voice, and shows skills being utilized to create something unique, powerful, and innovative), and the emergence of a personal voice or vision (work with an authentic and unique point of view and style)."
Pieces created by senior Spencer Evans, and juniors Cooper Anderson and Zella Horton were awarded and/or recognized.
Spencer Evans, Painting, Honorable Mention "Under the Overpass"
Cooper Anderson, Painting, Honorable Mention "The Library"
Zella Horton, Drawing & Illustration, Gold Key "Self-Portrait"
Zella Horton, Drawing & Illustration, Silver Key "Creative Hands"
Zella Horton, Painting, Silver Key "Two Birds"
Zella Horton, Painting, Honorable Mention "Holiday Reflections"
Zella Horton, Drawing & Illustration, Honorable Mention "Better Not Whisk It"
Zella Horton's Gold Key awarded piece for her "Self-Portrait" has been automatically entered into the National Contest and is currently on exhibit at SCAD (The Savannah College of Art & Design) in Savannah, GA. What incredible talent we have in our Art 2 and AP Art students!