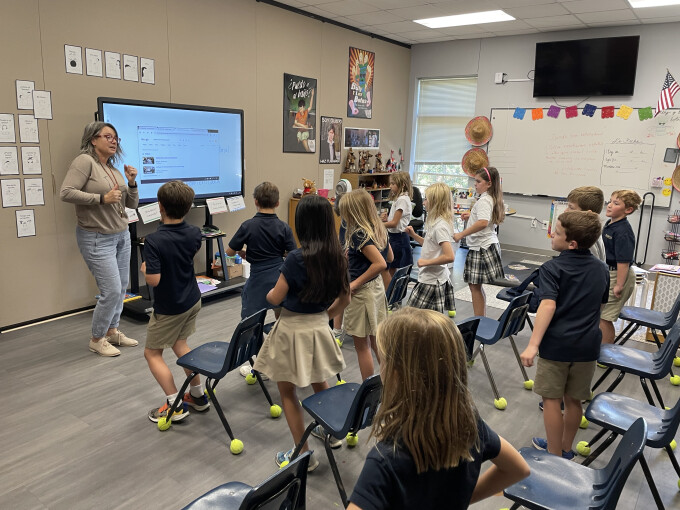 Buenos dias! The lower school classes have been embracing new experiences during Spanish class - sampling foods from Latin America like yucca, plantains, horchata, nopal, and choclo. Spanish Teacher Tonya Whitehead said students recently sampled agua de jamaica, aka hibiscus tea. She says she did not get a unanimous "love it!". Tally marks from their vote showed three students saying they loved it, 2 who liked it, and 7 who said, no gracias.
Over the past few weeks, Mrs. Whitehead and her classes have been talking about the importance of spreading God's love by learning to communicate with our hispanic neighbors. Many classes learned the merengue dance and sang traditional songs from Latin America. Their favorite music was Huapango de Jose Pablo de Moncayo.
Overall, students embraced this learning experience and all that they discovered about Latin American culture. Henry Van Roekel says he "really enjoyed drinking tea!" Ellie Jeter says she "enjoyed the dancing moves and steps", while Campbell Alford added that it was great "learning about kindness and encouragement to help others who are from different backgrounds." Ethan Williams weighed in on the interesting snacks, saying "Yucca has a really different texture and shape."
Learning Spanish as a second language is a valuable opportunity for our lower school students as they are also exposed to new cultural practices, influencing how people think, act and what things they care about in their lives. Some studies suggest that learning a second language can even boost cognitive function such as memory, mental clarity and concentration.