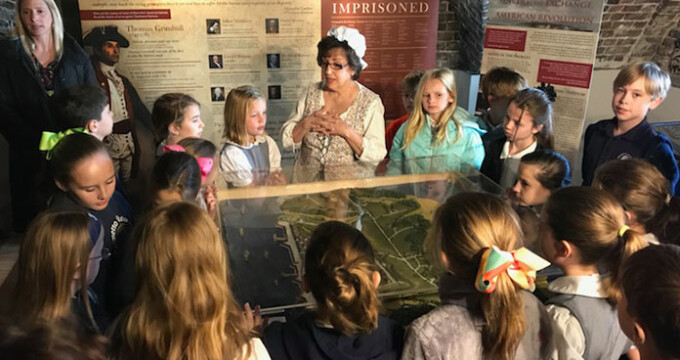 Ever wonder what this amazing place that we live in was like years ago? Was Charleston always full of "southern charm"? Well, on March 5th, our fourth grade classes took a field trip downtown to check out the Holy City's history and learn exactly what it went through to become our little piece of heaven on earth.
The students visited The Old Exchange and Provost Dungeon. They traveled back in time to find out that Charleston was the wealthiest of the 13 colonies, thanks to its abundance of "Carolina Gold", or rice. They learned all about the original leaders of the area, and found that many of our local landmarks are named after those leaders, such as the Cooper River, Ashley River, Fort Moultrie, Fort Sumter, and Francis Marion National Forest. The children learned about the Patriots who wanted to build and create a new nation, as well as, the Loyalists who wanted to keep things as they were.
After a tour of the military dungeon and learning about the leeches that were used for curing infections, they finished up the tour with a fun dance lesson in the ballroom. The day of exploring did not end there, as the classes had lunch at the waterfront park and toured The Powder Magazine. The study of South Carolina's colonial military history was continued in this building, which is the oldest public governmental building in our state. It was built in 1713 and used as an arsenal to defend the the colony from the Spanish, French, pirates, slave rebellion and native attacks. Throughout the 19th century, the building was converted and used as a print shop, blacksmith shop, wine cellar, and horse carriage. Today, it is a fascinating museum, which helped our children learn a bit about the early stages of the development of our little gem, Charleston.