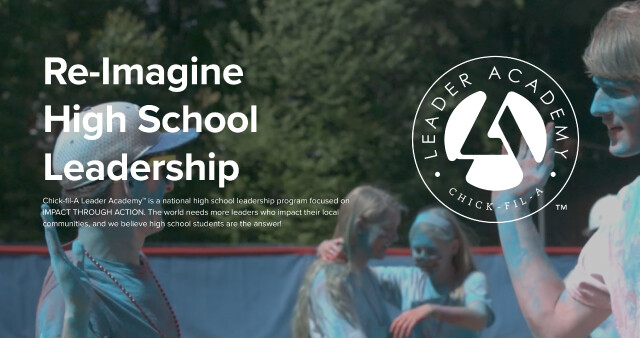 We're Re-imagining High School Leadership! Palmetto Christian Academy is pleased to announce that we are bringing the Chick-fil-A Leader Academy to our school in 2018-2019!
The Leader Academy is a national high school leadership program focused on IMPACT THROUGH ACTION. The world needs more leaders who impact their local communities, and we believe high school students are the answer! The Chick-fil-A Leader Academy brings a fresh approach to leadership and empowers young people to make a difference.
This is a year-long curriculum, taught once per month for approximately one hour. Up to 30 students, grades 9-12, will be selected to participate after an application process. The program engages students with a monthly "Leader Lab" focusing on important leadership skills including vision and values, servant leadership, teamwork, communication, and innovation and impact. Throughout the program, students plan an "impact project," which is the culmination of the program. The impact project is student-planned and student-led.
We are extremely grateful to Josh Malone, Chick-fil-A Owner/Operator, who has graciously agreed to sponsor and fund PCA's participation in this valuable leadership program.
You'll be hearing much more about the Chick-fil-A Leader Academy as we kick off the new school year in August!