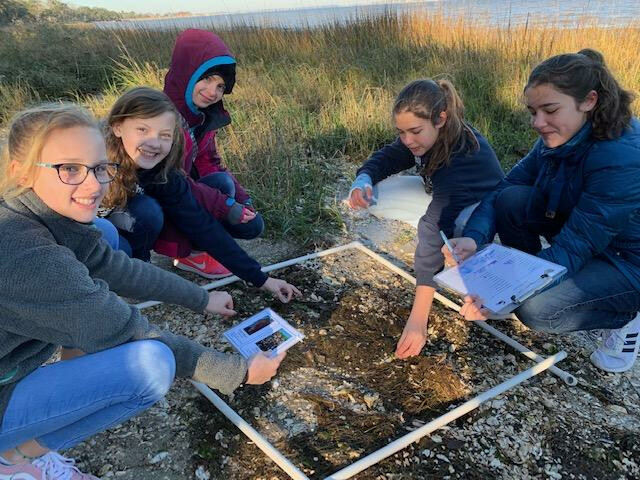 One of Charleston's most glorious scenes is how bright blue the skies look as they touch the vibrant green cord grass swaying upward from our surrounding marshes. PCA's 6th grade class received the opportunity to learn more about the beauty of our salt marshes, and their importance in sustaining Charleston's ecosystem on a field trip to the Department of Natural Resources located on James Island last Friday.
Students began by recording data of what salt marsh objects were found in a simplistic device known as a quadrad. Piecing together pvc pipe into a square, students marked their areas around the marsh land and identified items such as oyster shells, salt grass and sea lettuce. Making these finds help scientists know the health condition of the local salt marshes.
Next, our students were handed every day articles by one of the DNR biologists, and asked to find the metaphor in how that item related to our salt marshes. One group was handed a kitchen sponge. 6th grader, Graham Eller, remarked, "the marsh absorbs bad things from the water." Steering Eller to more specifics, the biologist agreed saying the sponge represented the important need of salt marshes' pluff mud and grasses to absorb wave energy during storm surge and tides.
Students continued their scientific research by dragging marsh water into a water net in order to collect plankton samples. Surprisingly, these microscopic organisms that live in our waterways form the basis of our food web, while also creating 60% of our atmosphere's oxygen levels. Students learned the difference between phytoplankton and zooplankton and were asked to identify the creatures under a scientific microscope.
Wrapping up the day of exploration and research, the students enjoyed a walk through the Ft. Johnson Trail while reading plaques dotted throughout the woods about local plants and animals. The students ended their chilly morning with a picnic lunch while soaking in the view of the Charleston Harbor, now more aware of the complex ecosystem lurking in the elegant beauty of our local salt marshes.