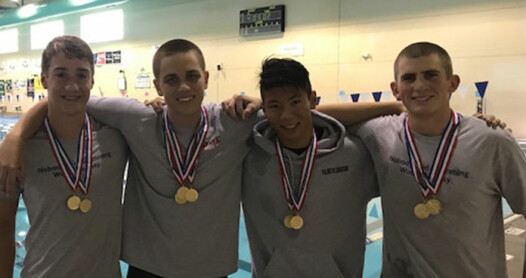 Nineteen PCA Eagle Swimmers were invited to compete in the Pinewood Meet this past Saturday. Competing were fifteen 2A and 3A teams from around the state. The PCA Boys swam away with a second place finish, narrowly missing a first place finish by just four points to Spartanburg Day.
The PCA girls won a 4th place finish. Overall PCA earned 17 State Qualifying Times, with many personal best times for the season achieved by James Miles, Zella Horton, Simeon McCleod, Regan Baker, Cole Seitz, Ami Friedl, and Brad Chaney.
High points in the individual events were lead by Sam Biggerstaff (11 points), Lauren Pernell (8 points), Brad Chaney (5 points), Will Vandergrift (5 points) and Michael Pernell (3 points). Top three finishes in individual 2A events include Lauren Pernell (1st in 50 free & 2nd in 100 breaststroke), Emi Morgan (2nd in 200 free), Sam Biggerstaff (1st in 200 Individual Medley & 2nd in 100 breaststroke), Michael Pernell (1st in 50 free), Brad Chaney (1st in 100 free), James Miles (3rd in 50 free), and Will Vandergrift (tied for 1st in the 200 free). The Boys Relay team of Biggerstaff, Pernell, Chaney and Vandergrift dropped four seconds in the 200 Medley Relay, placing first in the 2A division. The same four swimmers also placed second in the 200 Freestyle Relay.
The Eagles will be on the road next weekend traveling to Converse College for the Oakbrook Prep Meet on Saturday, September 23rd.