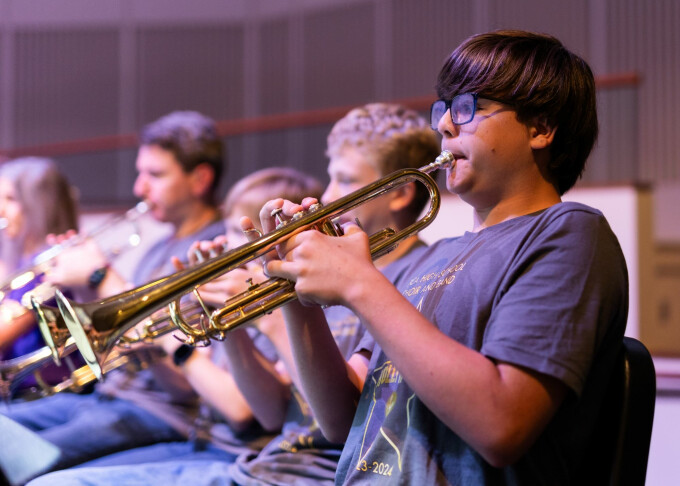 Roll out the red carpets! The Worship Center was alive with all the glitz and glamour of the silver screen as the PCA Band and Choir came together to celebrate the classics that made up the soundtrack of the early 1900's to today!
The production began with Upper School principal, Sean Keiper, leading the audience in prayer before turning the stage over to the performers. Under the direction of Dr. Jolene Hethcox, members of the choir led the audience on the melodic journey down the red carpet with a song from Quest for Camelot ("Prayer").
Next up, the PCA band (with some additional guests), directed by Mike Doll, brought the audience into a playful spirit with Highlights from the Sounds of Music and a jovial rendition of "Supercalifragilisticexpialidocious" from Mary Poppins.
The era turned when Senior Ian Marlow took the stage to sing, "I'm Still Standing" (Elton John), followed by Kade Watson's violin solo of "You'll be Back" from the Tony award winning musical Hamilton.
The night continued with classics from the Beatles, Pirates of the Caribbean (performed by members of the band), Frozen, Mulan, a medley of John Williams hits (Star Wars, Indiana Jones, Jurassic Park etc.) performed by the band, and ended with the classic hymn "Gather at the River" before Headmaster, JD Zubia, closed the event in prayer.
"The High School choir and band did an amazing job at the Coffeehouse," said Hethcox. "I loved how the choir and band were able to showcase their talents while performing fun selections from movies and musical theater. I also loved seeing how much all the kids supported each other!"
"The Coffeehouse was a blast tonight," said Doll. "I love it when the students have worked hard and it all comes together during the performance. I hope they are as proud of their effort and performance as I was."
Three cheers for PCA's performing arts program and the wonderful directors and students who together create such wonderful events!