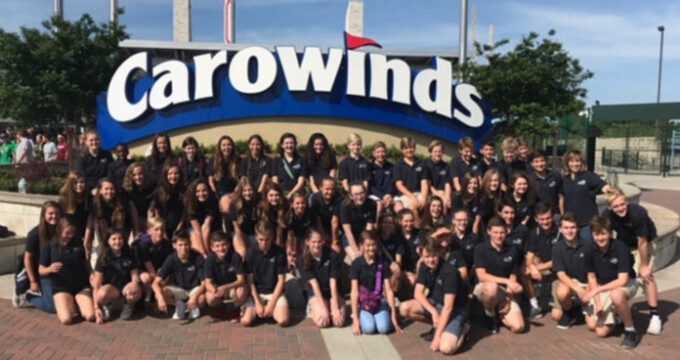 On Thursday, May 3rd the PCA 7th & 8th grade Middle and High School Choirs participated in the Carowinds Festival of Music. Accompanied by pianist and parent, Amy Wheeler, the 56 member middle school choir sang two challenging selections, "Pie Jesu" and "Soon I Will Be Done", featuring 8th grade soloist, Anna Scott Nutall. During the performance, three well respected musicians and judges made comments and gave a final rating of SUPERIOR to the Choir. Students celebrated their success with shouts of excitement as all of the months of hard work had paid off!
Likewise, the High School Vocal Ensemble performed two challenging pieces, "Mojuba" and "The Lord Bless You and Keep You." "Mojuba was very special to the students. This song was selected after Bulus, a guest student from Nigera, made a tremendous impact on the PCA choir class. His stories about his life in Nigeria encouraged them to study music from his country. "This was one of our favorite pieces," said Choir Director Kathy Thames. The PCA High School Band lent their musical talents to the performance by playing the African percussion accompaniment. The Vocal Ensemble received an overall rating of EXCELLENT with one Superior rating and additional Superior comments.
It was an amazing experience according to Mrs. Thames, "I am extremely proud of all of our students! They all performed with such excellence and we had a fun and memorable day in the Carowinds Park! Beautiful music, beautiful weather, beautiful friends...it doesn't get much better!"