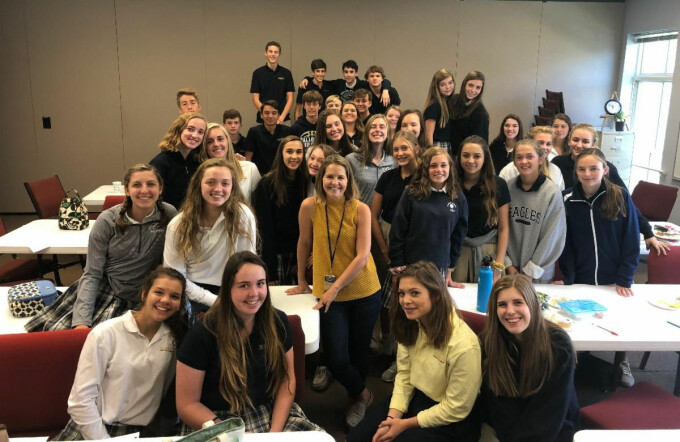 It was the first meeting of the year for the High School Spanish Club, and the room was packed. Nearly 30 students joined together eager to learn what membership in this club might mean for them personally.
The vision of the High School Spanish Club is to present opportunities for the students to live the gospel in the community. The club will be run with the hope of changing the hearts of the students and those they serve by empowering them to creatively and righteously care for God's diverse people, the broken world, and His entire creation. Guest speaker Margaret Merritt, director of the Lamb Institute based in Honduras, shared her story and encouraged the club to commit to serving others in a variety of meaningful ways.
Those leading the High School Spanish Club include a mix of faculty, parents, alumni and those serving in minstry. Sandra Pabst, Margaret Merritt, Amy Adkins, Julie Weinheimer, Lane Weinheimer, Josh Romine, Amanda Zumbrennan, Katie Hyman, and Anna Boyer all desire to see the club members discover how they can glorify God through the gift of foreign language.
If your high school student is interested in becoming a member, contact Sandra Pabst at for more information.