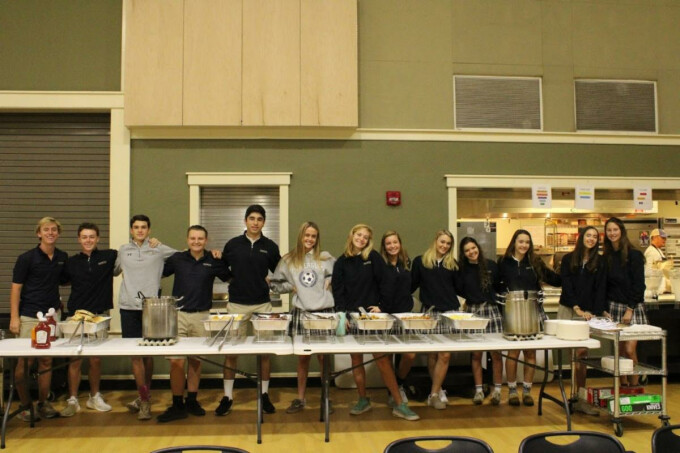 Fellowship of Christian Athletes (FCA) is a student led ministry whose aim is to help develop spiritual leaders and to see the world transformed by Jesus Christ through the influence of coaches and athletes. The ministry exists to lead coaches and athletes into a growing relationship with Jesus and His church. Under this overarching purpose of FCA globally, FCA at PCA highly values the component of fellowship. FCA Faculty Advisor Chris Kuzdale says, "We aim to help cultivate gospel-centered, healthy relationships throughout the PCA student body and more specifically in athletics. Along with this, the ministry desires to partner with other schools and organizations in the area to serve the needs of the community."
Coach Kuzdale adds that this year he and fellow advisors, Matt Manning and Jessica Hanzche, formed a student leadership team to help organize and promote FCA within the school and the community. Interested students were asked to volunteer for the job. The FCA Leadership Team is divided into three areas of specialty: communication, marketing, and fellowship. The communication team plans and coordinates FCA HUDL meetings every other Thursday. The marketing team promotes FCA on the campus and cultivates excitement for the ministry. The fellowship team plans and executes local outreach events. For example, some of the FCA leaders attended the Lowcountry Walk for Life in November. These students had the opportunity to help with face painting, learn about the mission of the Lowcountry Pregnancy Center, and stand beside other churches and ministries who wish to protect the sanctity of life. Also in November, Coach Kuzdale and four FCA leaders (Andrew Propes, Alex Stephens, Katelyn Howard, and Olivia Horne) attended a Philip Simmons High School FCA rally. Coach Kuzdale was invited to speak to their students, and our PCA student leaders got the opportunity to connect with FCA student leaders at Phillip Simmons.
All student athletes in grades 6-12 may be involved in FCA. FCA holds a bi-weekly meeting on campus designed to create fellowship among the students and nurture their spiritual lives in the Word of God. These meetings include a great breakfast, some fun games, and a speaker. We encourage you to join us at our next meeting on January 16!