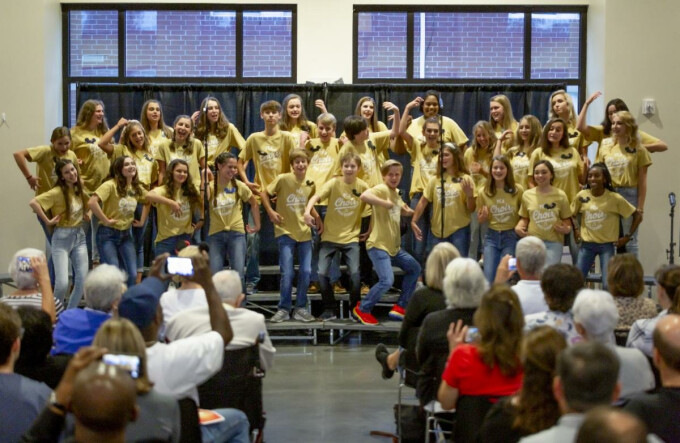 The 2019 Fine Arts Coffeehouse was nothing short of magical as the High School Choir performed songs from Disney's most popular movies. The Choir entertained a full house with choral selections from The Jungle Book, Aladdin and Mulan. With popcorn in hand, the audience was entranced with solo performances from seasoned singers Aly Godwin-"A Dream is a Wish Your Heart Makes", Charlee Olson-"Colors of the Wind", AnnaJaye Walters-"I See the Light" and Olivia Horne-"How Far I'll Go". Other standout performances were by Grace Fauteux who choreographed and tapped to Tarzan's "You'll Be in My Heart", while Will Wheeler and friends performed Tarzan's "Trashin' the Camp" with a homemade drum set made out of trash cans. Freshman Kwyncee Crager had our audience snapping and clapping with her rendition of "Dig a Little Deeper" while newcomers, Dani Wulf-"Almost There" and Olivia Martin-"Part of Your World" had stellar performances that had everyone on their feet.
"This program was so much fun to prepare for and perform", said director, Kathy Thames. "Our students' song selections represented their voices so well and provided a nice variety for a great show this year. However, beyond the music, it was amazing to see how beautifully our group works together and how they support and encourage each other - that's success to me."
This spring, the Choir will travel to Disney World where they will prepare and record a song and dialogue from a Disney animated film soundtrack in a fast-paced recording studio environment.